The 2015 District 28 Fall Conference was a wonderful event, with record attendance of approximately 140 people!
It began with the Table Topics contest on Friday evening. The question was, "Who do you think about when you think about success"? There were seven great responses from seven fantastic contestants. Kudos to all of them for stepping out and stepping up. The top three finishers were: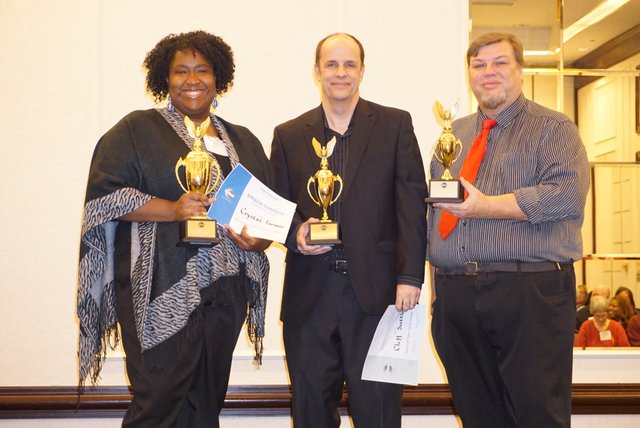 1st place: Crystal Farmer (Skillmasters #7236, F29)
2nd place: Cliff Suttle (Novi Toastmasters #3733, G31)
3rd place: Brad Kepler (Fremont Club #1402, A2)
After the contest, the attendees enjoyed a buffet dinner, a speech presented by our keynote speaker, Dana LaMon, and then Friday Fun Night. It was "storytelling with a twist." Eight teams received three props each and the first line of their story. The rules were to use all of the props, begin the story with the line given and have all team members participate in the story. The ballroom was filled with imagination, action and laughter. It was great to see such creativity from everyone there. All of the teams performed very well and were declared winners.
Saturday started with the breakfast buffet and our fantastic keynote speaker. This was followed by a total of six workshop sessions. Kudos to all of the presenters. Next was lunch and the District 28 business meeting (let's not forget the cookie break)!
The Humorous Speech Contest was also very entertaining. There was plenty of laughter as the eight contestants engaged us with funny stories and crazy anecdotes. The top three finishers were: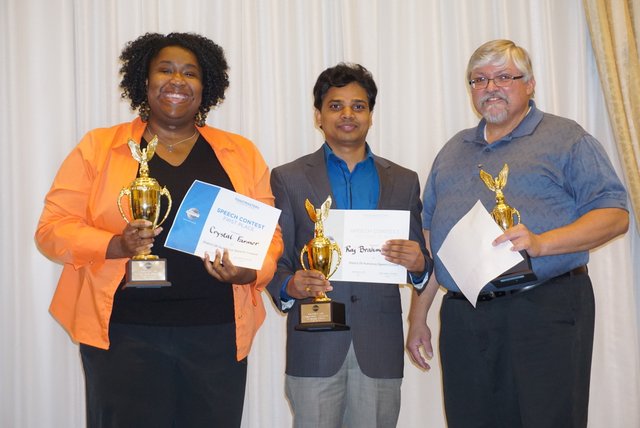 1st place: Crystal Farmer (Skillmasters #7236, F29)
2nd place: Raj Brahmandhabheri (Novi Toastmasters #3733, G31)
3rd place: Bruce Perry (Westgate Club #3159, A3)
Saturday concluded with another keynote session, dinner, the DTM ceremony and dancing. Many of us created sparks on the dance floor with our swift (questionable) moves. The DJ was jamming and so were we!
An added bonus was breakfast with Dana LaMon on Sunday morning. More food, conversation and laughter.
But Wait, There's More!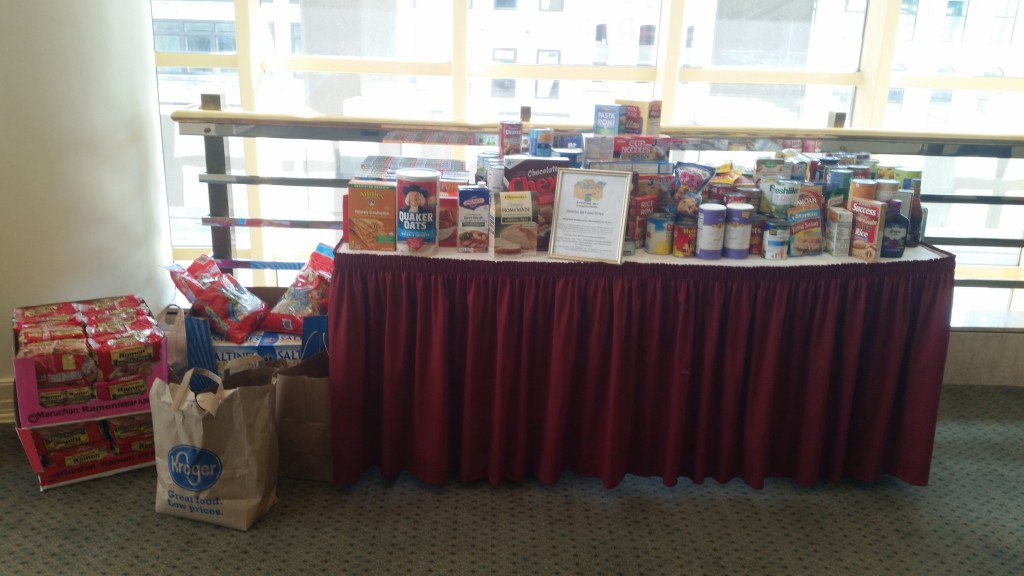 The D28 food drive was a huge success! The Seagate Food Bank is very thankful for the contribution of about 300 pounds of food. They will soon send a formal "thank you" letter. Look for it in the Rolling Stone.
The silent auction and the 50/50 raffle also went well. There was a plane ride, boat ride, baskets and other items awarded to the highest bidders and one lucky winner took home $150.
If you missed it, you missed a great time. Don't worry, though, because…
The Spring Conference is Just Around the Corner!
Mark your calendar for next year: the Spring 2016 Conference will be held at the Caesars Windsor Casino on May 6th and 7th, 2016, marking the conference's return to Canada for the first time in over 20 years. We look forward to seeing you there!